It's not Just Another Pretty Face – The Lasertube LT5
Remember your youthful excitement while waiting for a coveted birthday gift? The sense of overwhelming giddiness after receiving the coolest thing in the world. That's how the Laser 1 team feels right now. After months of anticipation, our multi-axis fiber laser tube cutting system (aka the Adige Lasertube LT5) has finally arrived and is almost ready for action.
The Lasertube LT5's versatility and advanced cutting ability make it the perfect machine for industries that use tubes as product components. Such industries may include those that produce: agricultural or industrial goods, construction and exercise equipment, hospital and medical devices, furniture, and fixtures. If you're looking to manufacture small to medium sized tubes, this piece of equipment is for you.
Advantages of the Lasertube LT5
Reduces fabrication time and associated costs.
Handles large amounts of tubes.
Replaces cutting, measuring, brushing, and washing with a single step process.
Cuts through mild steel, as well as highly reflective materials such as aluminum, stainless steel, copper, and brass.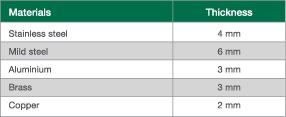 Processes round, square, rectangular, oval, elliptical, and other specialty-shaped tubes.
Offers the option of angling iron, channel, and flat bar.
Includes a "spoon" feature that keeps the inside of the tube free from debris.
Uses measurement information to optimize nesting and reduce end scrap.
The rapid cutting speed of this advanced system, combined with its accuracy, production capacity, and energy efficiency, make it a great option for those who need manufactured tubes. By moving to processes that are finish-machined, many companies have found a dramatic decrease in labor costs and cycle times.
The Lasertube LT5 is scheduled for production in late October.
As your strategic manufacturing partner, Laser 1 Technology's experts are always looking for ways to reduce costs, minimize production time, and increase product quality. Give us a call today, at (651) 451-9397, to determine if the Lasertube LT5 is the right piece of equipment for your needs.