We're Excited About the Bystronic's Xcite 80 E and Just Can't Hide It
The manufacturing equipment we use determines the quality of the final product.
Laser 1 Technologies experts only use the very best equipment to manufacture client products. Our equipment passes stringent performance testing relative to quality, speed, and accuracy. It's nothing but the best for our customers.
The Xcite 80 E electric press brake has long excelled in areas of speed and reliability. Whether it's for small, thin parts or thick pieces, large batches can be produced with high speed, power, and accuracy.
Highlights of the Bystronic's Xcite 80 E include:
an electric drive system that eliminates beam deflections, which ensures precision and repeat accuracy
low power consumption and energy efficiency
an advanced electric brake technology that excels over hydraulics in capability, accuracy, and cycle speed
less time and money spent on maintenance in comparison to hydraulic press brakes
high-speed bending, which can cut bending time in half
a belt and pulley system that distributes force evenly across the ram, therefore eliminating the need for crowning tables in a majority of jobs
an estimated electric brake cycle time savings of 30% or more while energy use is cut in half – lowering production costs and the carbon footprint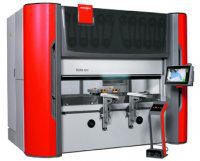 The Xcite 80 E press brake uses the Force Dynamic Drive System to bend within a tolerance of ± 25 arcminutes. With reliability noted at ± 0.000098 inches, 88 U.S. tons of bending power, and an 80-inch bending length, it's one piece of equipment that can't be matched.
However, we know that a quality piece of manufacturing equipment is only as good as its operator. That's why the staff at Laser 1 Technologies has the expertise to match required tonnage with press brake applications for easy setup, programming, and accuracy.
We have the knowledge, skill, and experience to take your business to a higher level.
As your strategic manufacturing partner, Laser 1 Technologies experts are always looking for ways to reduce costs, minimize production time, and increase product quality. Give us a call today, at (651) 451-9397, to determine if the Xcite 80 E press brake is the right piece of equipment for the manufacturing of your product.