Looking for a competitive advantage?
Looking for a competitive advantage?
Laser technology has dramatically changed the manufacturing industry.
But how does laser manufacturing relate to your specific needs? Are you able to take advantage of all the benefits of laser production?
Business owners and engineers come to us to solve their manufacturing questions.
Recent client issue: How do you create a complex design without it being cost prohibitive?
Problem 1: Intricate product
Problem 2: Plasma cutter caused rough edges, burrs, and dust formation
Problem 3: Plasma cutting and follow-up machining was costly
Answer: Use laser technology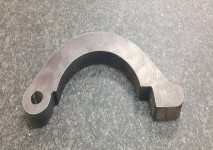 With this part, our client found that laser cutting increased both the focus margin and process stability for a more consistent cut, even on the most difficult of contours. As there was superior edge quality, elimination of supplemental machining reduced its overall production costs.
Many business owners find that laser technology provides them a competitive edge because of its accuracy, speed, large production volume, clean cuts, and repetitiveness.
More specifically, laser cutting delivers:
Material savings by part nesting
Faster and more efficient production
Increased ability for rapid design changes
Improved reliability
Elimination of clean-up processes that slow down shipments
A reduction in set-up time and part damage
Ability to more quickly produce less expensive prototypes
It all comes down to the bottom line – a high speed, precision laser lowers overall manufacturing costs, increases accuracy, and has the potential of improving production processes. Laser technology just may be your answer to staying ahead of the pack.
Consult with our experts. Receive clear direction. Lower your production costs.
While laser technology has many benefits, it doesn't work with all materials or part designs. The Laser 1 production team has the manufacturing knowledge and expertise to set you on the best course of action. If there's a design change or process that will reduce costs, increase efficiency, and strategically improve your product – we'll find it!
As your strategic partner, we're always researching various manufacturing options and looking for ways to help put you at the top of your industry. We'll help you to determine which emerging technological advancement is the most cost-effective solution for the manufacturing of your product.
Give us a call today at (651) 451-9397.