Fiber eX Plus With Smartflex Rapid Automation
At Laser1, we're proud to announce we'll be ringing in the new year with a brand new laser cutter!
Introducing the Fiber eX Plus from Mitsubishi: The first fiber laser in our stable of machines.
With lots of integrated automation functions, it will help us you better, faster and cheaper.
This machine is perfect for large volumes, projects requiring different thicknesses of material, and parts that require etching.
What Is a Fiber Laser?
Here's how Mitsubishi compares the Fiber Laser with the CO2 Laser:
Fiber lasers deliver the laser entirely through a flexible optical fiber cable, eliminating any need for mirrors or optics. They have a monolithic, entirely solid state, fiber-to-fiber design and, being more rugged, are able to perform in variable working environments. These features make fiber lasers easier to integrate and operate in production, medical, and other laser-based systems
Techopedia explains it this way:
A fiber laser is a special type of laser in which the beam delivery as well as the laser cavity is integrated into a single system inside an optical fiber with the beam generated within the fiber, unlike conventional lasers where the beam is generated outside and sent into the system. Considered as a special category of solid state laser, fiber lasers provide many benefits compared with other laser technologies, such as:
Maintenance-free operation
Ease of use
High reliability
High integration capability
As a brand-new state-of-the-art machine, the Fiber eX-F Plus benefits from closely integrated electronics and automation. That saves us time, so we can save you money!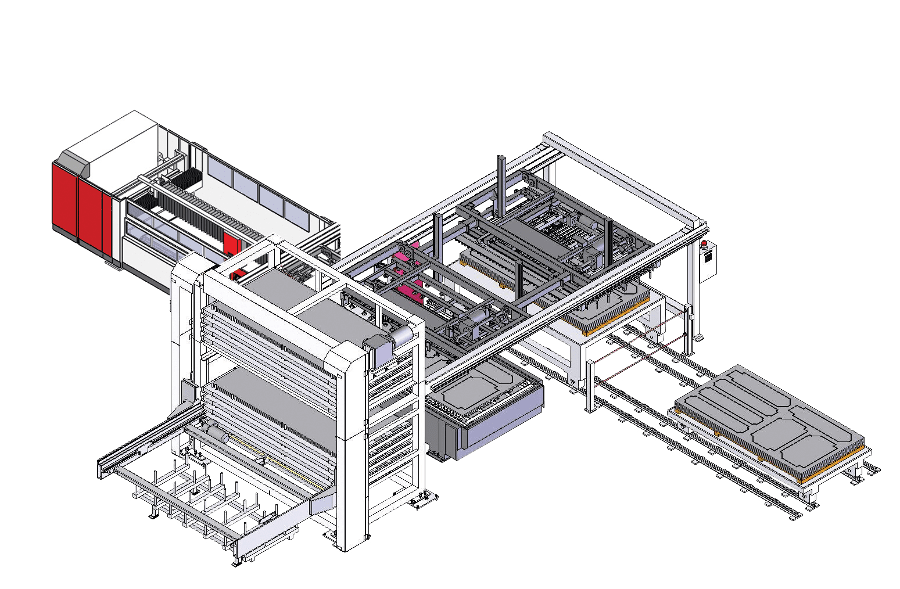 Advanced Automation
There's a 19-inch touchscreen with lots of enhanced features, and the device can notify us directly to our phones when jobs are interrupted or completed, so we can offer better service to our customers.
Improved software offers faster processing time. From Mitsubishi:
New software calculates the timing to control the oscillator according to the position of the axis. A high-speed communication unit between the CNC and the control board allows for ultra-fast communication thanks to signal delay reduction. The laser power control, exclusive to fiber lasers, provides a beam On/Off time of 1 microsecond.
High-speed communication between the oscillator and control unit controls turning the beam on/off without stopping the axis, thereby reducing processing time. Traditional technologies worked fine for square or rectangular cutting in fiber lasers, as they relied on the axes perpendicular travel to coincide with 90 degree angles. When faced with complex or intensive geometry, traditional controls slowed down the processing due to axial stoppage at start point. The M-Cut function controls the ON/OFF timing to eliminate the need for axes to stop, and therefore increases process speed, and ultimately, the bottom line.
The M-Cut time-saving controls permit operators to cut multiple shapes without the axes being forced to stop, so there's higher speed, lower power input, and greater per-part cost efficiency. Happy new year, indeed!
Greater energy efficiency, an automatic pallet changer, and an automatic safety door all generate savings in operating costs.
There's a Hot Reserve Function enabling continuous operation should a failure occur. The Laser Diodes run at 80%, which means should failure occur, the unused diodes keep the job running.
The Zoom Cutting Head features an "All In One" design with an Auto Focus range from 3.75 ~ 10 inches. This allows multiple sheet thickness cutting up to 1″ mild steel with minimal setup and no lens or cartridge change required.
Automated Loading
Here's the scoop on the automated loading system:
SmartFlex RAPID features an industry leading 52 second load/ unload cycle time. With intelligent, fully independent load and unload units, the RAPID provides unrivaled speed and flexibility for multiple lasers. Confidently serve up to 4 lasers with one line. With dual automated SmartStation carts for both load and unload, the SmartFlex RAPID is as fast as it is flexible. Each SmartStation is capable of supporting 11,000lbs of raw material or finished goods.
A Powerful Tool in Our Shop
We're delighted to have another tool in our arsenal to offer you the best laser-cutting services possible, along with our long tradition of personal attention to each customer and each project.
Give us a call to find out how our new fiber laser cutter can make your life easier in the new year.